Have you ever played these games before when you were younger? Back when the Windows software was 95, 98 or 2000? The games from Humongous Entertainment (namely Putt Putt and Freddi Fish series) accompanied me through most of my childhood.
These games have two categories, the Junior Adventure games and the Junior Arcade games.
The games are very simple to play (they would have to, being made for 3-8 year olds!) and involved the pre-touchscreen method of navigation: clicking around and use of the keyboard for some parts of the games. Characters were all fully-voiced, and graphics were cute and good quality for their time. The gameplay changed slightly every time you play it!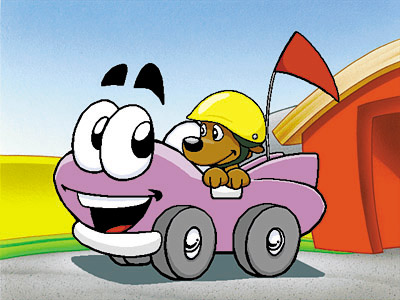 Putt-putt and Pet-pet, in Putt Putt Enters The Race
The Putt Putt series generally centred on major events Putt Putt would land itself in, such as going to the moon, saving the baby zoo animals, joining a circus, or holding a birthday party for its beloved dog, Pet Pet!
Freddi Fish and her sidekick Luther, however, lead somewhat more exciting lives by helping to solve mysteries! The bad guy is chosen at random each time you play, so it's always worth playing this many many times :D Need to save Luther's uncle in The Missing Conch Shell. Image from ATPM.


Want to get them for kids you know?
(or secretly for yourself :P) Some titles have been re-distributed for the iPhone by Nimbus Games.
Those are the free demos, so you will have to pay for the full versions (S$3.98).
The PC versions are available on emulator sites, and require a program to work on these updated desktops (Google is your best help here!).
With its colourful graphics, cute characters and full voice-overs, these games make for an enjoyable time, or a good and quick break from studying (as well as re-living your childhood!). ((: